Unimother 27 first album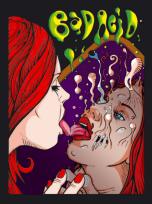 Bad Acid Tab 4 2007
Italy is the home to the world's best prog scene.
There is so much prog talent in Italy that they more than make up for the rest of the worlds lack.
And here we have Unimother 27, a one-man project, aka: Piero Ranalli, bassist of prog freaks Areknamés, and space doomsters Insider. Unimother lacks the sinister edge that so much of the italian scene boasts, and doesn't attack with the biting frenzy that more of the psychmetal acts dig so much. Instead, Unimother takes a more laid back, gentle approach, utilising psychedelia to compliment its journeying, via a chilled sound.
There's still all the hammond and bass-guitar work outs you'd expect, and dark themes interlaced with ponderous riffing, but no insanity or horror, Lovercraftian themes huge crosses and inquisition costumes: Is this a shame? Well, I don't know, I guess it's a bit of a cliché. But I admit to totally digging all that doom mongering darkness, no matter how often its done or even overdone .....
So why dig Unimother 27? Well Piero has done a great job of infusing his own brand of psych prog, chilled, laid back, almost ambient in places as the guitars and bass roll along to an electronic steambath with enough structure to keep your mind ticking over ... This is an easy listen, it doesn't challenge or disturb, but nevertheless take your mind on a journey that once started you want to complete.
Piero has already recorded the second Unimother album, and it is being released has we go to print. The little I have heard has been more riff orientated than this debut, heavier and with sharper teeth. I anticipate journeying with the sequel ....
Dave Gedge